Annual summer intensive intervention sessions will be individually tailored to fit each student's needs. Each student's curriculum may consist of reading, writing, math, and/or executive function skills.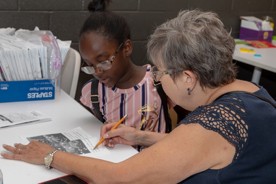 Sessions are one-two hours in length, for a minimum of 16 sessions beginning when the school year ends for your student. Sessions do not have to be consecutive, but all sessions must be completed by prior to your school's start date.
Our goal is to make sessions work with your schedule. Sessions are available at one of our clinics or virtually over Zoom!
Contact us for pricing and scheduling. 817-924-2000
Will my child need an evaluation?
If your child is new to TRC, we will need to complete a full intake evaluation in order to accurately meet your student's specific needs. If you are a current TRC client, you will not need a new evaluation.
Will my child continue to have their "regular" specialist?
Most of our reading specialists will be conducting summer intensive sessions, and we would be happy to pair your child with his or her "regular" specialist.  Please contact our office for more information.
Is there a discount for siblings?
Yes, there is a 10% discount for the sibling's fees if both students' fees are paid in full prior to starting summer intensives.
Is there a discount if you pay early?
Yes, a 10% discount if your student's fees are paid by April 1, 2021.
How are Summer Intensives billed?
Summer Intensives will need to be prepaid before sessions begin as the hourly rate is lower than standard session hourly rates.  Please contact our office for more information.
Are there scholarships/financial aid?
Testimonials
"[My son] has a new-found confidence that he can accomplish anything he works towards. His attitude with school has totally changed."
-TRC parent
---
"My niece who struggled with reading is now getting the help she requires, and it is showing in her grades."
-TRC aunt 
---
Research shows reading loss occurs for all children over the summer months. By enrolling in an intensive summer reading program, students can avoid summer reading attrition and instead make strides and growth! 
Dr. Kary Johnson 
TRC Owner/Clinical Director